Transcription – A Brief Overview
So, what exactly is transcription?
Transcription refers to the process by which speech or audio is converted into written form. An example, for instance, could be that of how a recording of a research interview could then be transcribed into a typed-out word document. Alternatively, a legal transcription may entail the conversion and written documentation of an audio-recorded segment of legal proceedings.
The different types and formats of transcription will be covered in the section below, yet in a nutshell, transcription is an important and effective process used by many businesses and organisations in order to convert audio or video files into written text form. In addition, various projects and clients will no doubt have various needs, as for some, it is more important to analyse what was said in a recording, and for others, how something was said.
Types of transcription
In terms of transcription formats, transcription can be performed in several forms and in this section, I outline the most common types. Transcription terminology can vary slightly (according to what source you look at) but in general, the most common types of transcription are often referred to as clean verbatim transcription, legal transcription, full verbatim transcription, and edited / standard language transcription.
Clean verbatim transcription is useful for such media as interviews and speaking events. In addition, this transcription type captures and records the words as they are spoken, yet any filler words are eliminated from the text. Furthermore, the transcription will record everything that is said in an audio recording but any filler words or instances where a speaker is searching for words, can be omitted.
E.g. if a speaker repeats "and, and, and…" such words can be omitted.
With legal transcription, the transcription is either clean verbatim or full verbatim according to desired requirements. Commonly, with such transcriptions, the speakers' last names become apparent and they are often included in the transcription. Alternatively, speakers are often simply identified by such tags as 'Speaker 1,' 'Speaker 2' etc.
With full verbatim transcription, every spoken word, laugh, emotion, background noise and mumbled sentence is transcribed and time-coded into written format. With this type of transcription, everything is transcribed verbatim and it is useful for scripted media such as a TV show with a storyline, for example. Thus, incomplete words, word repetitions, coughs, sighs and filler words such as 'like' are all recorded down directly or marked down with tags. In some cases, however, murmur speech, such as 'ums' and 'hmms' may still be excluded, depending on context.
Finally, with the format of edited / standard language transcription, this type of transcription differs from clean verbatim transcription in that the word forms are corrected where necessary, to correspond with standard language. Filler words, however, are still left out.
In general, with edited transcription, more periods are used to structure the text and dialect words and word order is left unaltered. Verb inflections are also corrected, where necessary to comply with correct grammar and pronunciation rules.
affidavid → affidavit
expecially → especially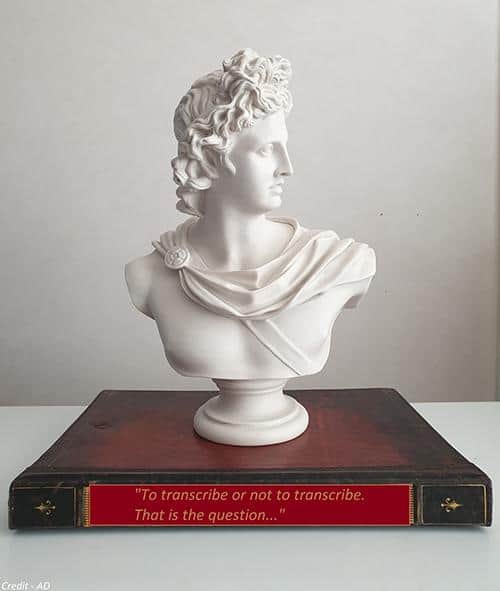 The benefits of transcription
In terms of the benefits of transcription, transcripts can help to make your online content better accessible to more people. If your business or website decides to use transcripts alongside your public media or video content on your website, for example, you will be catering to a wider, more inclusive audience.
Transcripts of your videos, for example, can mean that your content can be better enjoyed by people with learning disabilities, autism or attention deficit disorders. Also, those who are hard of hearing, may wish to read the transcripts of your media content, to gain a faster, more accessible understanding.
One other significant benefit of transcription is in respect of Search Engine Optimization (SEO). For example, as outlined in one of our blogposts on subtitling, adding transcripts of your video captions alongside your videos, can allow search engines to better locate keywords, index your video correctly and ultimately increase organic search results. According to one impressive SEO case study, documented by the company 3play Media, one transcription experiment had stunning results. When one public radio show 'This American Life (TAL)' transcribed 100% of their audio library for viewing on their site, inbound links increased by 3.89%, unique visitors increased by 4.18%, and organic search increased by 6.68%. Thus, transcription can undoubtedly positively impact website SEO and traffic growth.
Let us not forget also, that transcription allows companies and organisations to accurately and professionally record, analyse and store important information, such as meetings and speeches in alternative, more accessible storage formats, such as word and text documents.
Obligations and legal requirements
Most transcription work likely does not pose many legal issues, (e.g. a transcription of a small business meeting or transcripts of a simple, marketing promotional video). However, for some organisations, it is certainly important to be aware of organisational legal responsibilities.
In certain cases, if video content is required for the public sector (for example, in Finland) adherence to 'accessibility' requirements should be followed. Namely, in respect of the EU's "Accessibility of websites and mobile applications" directive, video content should be created in line with particular (WCAG 2.1) guidelines.
In America, for instance, there are such regulations as The Americans with Disabilities Act (ADA) and the Rehabilitation Act which focus on anti-discrimination for individuals with disabilities. Certain organisations will need to be aware of such legislation as it may affect their organisation's usage of video closed captions and transcripts, however, rules and legislation may differ according to your area of business and particular global location. Notably, even the online media behemoths CNN and Netflix have been hit with accessibility lawsuits over their respective failures to provide captioning on their online content.
In terms of transcription, therefore, in many global jurisdictions, educational organisations especially often have to ensure that their media content is fully accessible to disabled people, such as for those who are deaf or hard-of-hearing. Transcriptions alongside closed caption videos may help towards ensuring that accessibility requirements are fulfilled. However, in terms of your organisation's particular legal responsibilities with regard to accessibility laws, it is certainly best to seek external professional legal advice, to check your particular legal situation.
Do it yourself (DIY) or hire a pro?
Well, now that we have had a brief overview of transcription as a process, the question now remains – how should one go about producing such a transcription?
When it comes to transcription, an individual or organisation only really has two options. Do it in-house or hire some outside help. In terms of doing the transcription yourself, transcribing is not terribly difficult, but it can be time-consuming.
If you wish to transcribe an audio or video file using free software, one can download software such as VLC media player, assign some 'global hotkeys' and then start transcribing to a text editor, such as Word. The process is relatively straightforward to get started, and more information can be found on our 'How to transcribe' blog post here.
There are also other transcription programs and services out there, some of which are self-styled automatic transcription software services. These are said to be fairly straightforward to use, yet common complaints of such services are that the standard of accuracy with such programs are never as accurate as a human being (at least until artificial intelligence technology improves in the future). Thus, you will usually end up requiring a human to check the finished product at the end of the process, which to some extent, somewhat defeats the purpose.
All this leads to the final option, which is to hire some outside help, and of course that is where we come in. 😊 If you or your business require a bit of professional transcription assistance, then we here at Spoken Oy are always ready to help. With professional transcription services available for a variety of transcription formats, and always offered at competitive rates, we here at Spoken Oy are always ready to tackle your transcription needs! Thanks for reading!